Hello There Wednesday!
How is it the middle of the week already? I haven't even been working both jobs a zillion hours!
Today I wanted to talk about our upcoming wedding. There are a lot of things I didn't realize, maybe some advice to give (since I'm 7 months into being engaged!) and some stories to share!
I haven't yet shared our engagement story, though I did show off some
ring bling
a few days after the proposal. Things have been a whirlwind ever since.
Iman made this collage when he picked up the ring
When we got engaged we were living together and our lease was going to be up in 2 months. The week after our engagement we secretly decided we wanted to move back home to my moms. It looked like the best decision for us. Then came the engagement party, which was phenomenal - hosted by my aunt and like one of our typical family parties, but we got to merge the two families! A couple of weeks later my dad texted me from an ambulance because he had a pulmonary embolism. He was hospitalized for 10 days.
At our engagement party
This, combined with some problems on Iman's side of the family, solidified why we needed to move home. So we did. (BTW all of this happened between Thanksgiving and MLK JR Day). We both went back to old employments, but clearly, we needed more stability and a bigger income. Nevertheless, we spent the months of February and March frantically booking everything because we wanted to get married in October. If you've planned a wedding you know that really, you only need
6 months
BUT the good places book up a year in advance.
The day after all of the deposits were paid, we decided to postpone the wedding six months. So for the last several months we've just been focusing on working to save money. I haven't gotten to do anything crafty yet :(
We're incredibly blessed, though. Not only were we able to find a date that allowed us more time to save up (since we are paying for ourselves) but it works out that it is also Spring Break for the teachers in my life - AKA my mom, best friend and another best friend is in school in NC. The crazy thing is that it allowed other friends from out of state more likely to come - our wedding photographer and a friend who is due with her second baby in October!
The timing is perfect, although, of course, I am still constantly worrying about money.
We got these tattoos about 6 weeks before he proposed
Friends and family are contributing to our wedding any way they can. Let me tell you: Getting Married in Southern California is NOT Cheap. Not even if you have half of the things you need taken care of. Venues on average are $5k without catering. HOLY COW.
Luckily, we were able to find a wonderful golf course that includes catering, gave us the best deal where we get to have service, the cutest chairs, and mood lighting included for the best price. On top of that, it's the venue that made my jaw drop when I walked in - which I didn't expect. I'm sappy, but I just never imagined myself getting giddy like that.
from La Habra Golf facebook
My mom is making my wedding dress. She made her own, a vintage-inspired 1800s dress, and now she will make mine inspired by the 1950s. My godmother is going to buy the fabric. It is going to be such a wonderful, meaningful experience. I never imagined buying a dress. I just knew my mom had to make it. How else am I going to find THE perfect dress when the dressmaker doesn't know me?
My dear friend Amanda is going to do our baking as our wedding gift. I just adore her. She's going to make it for 200 people!!!
My uncle is gifting us the DJ - along with an emcee - HIM! It's going to be such a blast. He's got great energy. Plus his son is our ring bear (he doesn't like to say bearer). He's already begun practicing his aisle walk.
Lil T!!!
My namesake will be our main flower girl. She's the oldest of the young cousins, named after me, and Iman is completely smitten with her because she can throw a football and she is a little bit in love with him.
Raylinn!!
We're including 5 attendants plus 2 jr attendants each. I'm so happy that his younger brothers are the same age as my cousin and adopted sister.
Our photographer -
Holly Williams
- is flying out from Ohio to take care of our pictures. Photography was the defining moment when we decided to push our date back. We couldn't find a 2 shooter package with the things we wanted to include for less than 2,500 (before taxes). My desired budget was 1,000...2,000 if we had to! Then Holly posted an Instagram of her new business cards and on a whim - preparing myself for her to say no - I asked her if she would come to Cali for mine. SHE SAID YES! So we are able to get her services, fly her in, and pay for a 2-night hotel stay for under 2,000. The best part is that she and her hubby get a Cali vacation. (Hellooo, I live 5 minutes from Disneyland).
Photo from Holly Lynn Photography
I also was able to win a discounted price for a day-of-coordinator and I
seriously
am so grateful for this.
Enter into any contests you find.
Liz
is an amazing wedding planner. She recommended our venue and has helped so much along the way, even though we are only paying for day-of service. I met her at the venue last weekend and she is a riot. Amazing. My mom loved her, too. I mean, we happened to look up as we were standing under the gazebo and notice spider webs. My mom mentioned that I'm allergic. Liz then made it her mission to make sure and stay until the events director was finished with a meeting to put in our file the spider allergy.
I am just so grateful for everything that has been presented to us!! Iman's promotion and my new job with promotion opportunities is really going to make this possible. He gets bonuses now and doesn't have to work 50 million hours (though, as I mentioned, I do.)
Today, I started a couple of new savings techniques.
One
is saving every $5 I get. I don't have any yet, but I'm going to do it tonight when I am at work. I wanted to start this in January but forgot.
Two
is to honestly look at what I spend on and STOP. My friend who is studying abroad in Venice made me get Viber last night so I can text her everything I spend money on. So that she can yell at me when I spend it needlessly.
Three
is to set up an
Impulse Save
account. I've been looking into it since November, but hadn't done it yet.
Lastly,
I am going to go through our stuff and sell it. I know I have a million books I can sell, even if it is for $1 or $2, that's still progress. Plus, I might be able to have some fun projects (when I have time) and sell those.
Linking up for the first time!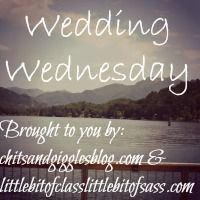 Have a wonderful day!