Erykka and I decided to do the #dogood52ways challenge from the Do Good Bus. Every Wednesday night, we draw a new paper from the jar; complete the task; and invite our blog readers to partake. For more information on how this started go here.
Last week's task was a fun one!
We had the plan to do a whole row of cars in a parking lot with a note that said "Just a stranger hoping to make your day," but Sunday didn't exactly work out for us. We worked on this week's challenge separately.
Erykka did do a whole line of cars with daisies, and I got one car with a carnation. I then gave the rest of the bouquet to Iman because we've had a rough week, and I just love to see his smile!
These do good challenges do not have to be just for people you know or people you don't know. It's nice to mix them up!!
This next week's challenge is definitely one that we will be doing daily - in fact, it is something that I do every day already!!
I'm one of those people who is crazy about picking up trash. I feel bad when I dump water out in the parking lot [I don't know why]. Once, I broke up with a boyfriend because he told me littering created jobs. I almost socked him in the face. I participate in beach, park and desert clean ups. I grew up in Girl Scouts and live by the motto "pack it in, pack it out." As a server, you'll find straw wrappers and trash in my apron pocket because I obsessively take them off of tables as I stop to check in.
Of course, my room is typically a mess and has trash in it, but at least the outside world doesn't!! :P
Join us this week because this is literally the easiest challenge we could have pulled!
______________________________________________________________
In case you missed it yesterday, here's a lovely picture of me modeling our February design! #ColorMeAWarriorQueen!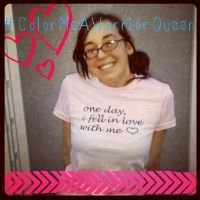 Click on the image to order! :)

Check out one of our featured Warrior Queens: