Did you all get a chance to check out Chelsea on my sidebar this month? She blogs over at Mommie and Wee and she has got me so inspired. She really wanted to do a guest post (who am I kidding, I begged her to share her story with you guys). Without further ado, here's this wonderful super warrior queen!
Oh my gosh. Today is the day! I'm so happy to be here, sharing with you Be A Warrior Queen followers!
First of all, thanks so much Raewyn for letting me guest post on your blog!! I absolutely adore your vision behind your blog, and commend you on a job well done!!
Oh, I guess I should introduce myself too! My name is Chelsea, mother of twins and mommie blogger at
Mommie and Wee
! I also have
Lupus
, which is part of the reason why I'm here! (And, because I was so eager to write for BAWQ!)
Sidenote:
Lupus... yeah, a lot of people don't know what that it. It's okay if you had to do a google search. ;) Lupus is a incurable autoimmune disease that affects over 5 million worldwide. Yet, the majority of the world's population has no clue what it is, who it affects, and how it affects us. Crazy right! Well, I was diagnosed with Lupus when I was 17, but I didn't have any major problems until I was 22... and pregnant with twins! I ended up being in the ICU for 3 weeks because of it... major bummer. But, I'll spare you the deats. You can read more about it if you want
HERE
. (It's a crazy story, and I'm not just saying that!!)
Anywho, I know we just met, but can I be real with you guys for a sec? Sometimes, I think about
Lupus
, and I'm just like.... 'efffffff'! Click
HERE
and
HERE
to see why. Like, living with Lupus is definitely not the most enjoyable thing in the world.
Don't worry. This isn't a ranting, complaining, woah-is-me post. This is Warrior Queen moment of fame, remember!
Even though I
sometimes
most times hate living with Lupus, I am also thankful for it. Yes, you heard me right! I'm thankful to have Lupus for this one specific reason... Lupus has helped me to be a better mother.
Lupus has taken me out of my comfort zone.
And motherhood... Well,
motherhood
is living
life
outside of your comfort zone! You never know what is to come. There is no instruction manual. We're just free ballin' out here! So, thank you Lupus for preparing me for that.
Lupus has made me think of 'parent-like' things. I hate to say this, but Lupus has forced me to be realistic. Although I hope to live a very long life, I have prepared myself for the opposite. The average 20-something doesn't even think about life insurance -- and stuff like that -- because of what it ultimately means. But me, oh I've got that all under control!
I'm more optimistic because of Lupus. Complete opposite from my last point! But honestly, because things could be a LOT worse, Lupus has taught me to shed positivity on everything. Like I'm the sun, but with positivity rays! Haha! Kids, they are going to make mistakes. So, it helps to be able to see an ounce of positivity in a situation before getting upset.
Lupus has made me wayyyyy more 'kum-by-yah' oriented.
Like growing up, I didn't really care about the world around me.
What kid does?
But, I never really did community service or tried to create a better world. Sorry college applications, I may have expanded on
the truth
a fib just a little. ;) But, Lupus has reallllllly made me want to help the world. In
some
way. Be a light -- which is why I started this blog in the first place, and did
THIS
too -- I'm sooooooo thankful for that.
I am who I am because of Lupus. This is the most important. I would not be the person that I am, much less the mother that I am, if it wasn't for Lupus. Every piece of this painful puzzle has shaped and molded me to be Chelsea -- crazy, random, simple-minded, geeky, cool Chelsea. (Yes, I said cool!) :)
Do you have Lupus, or any other chronic illness for that matter? What has it helped you to become?
Even though I'm not happy I have Lupus, I'm happy for how it has helped me to grow. I have started a donation project,
Mommie for a Cure
, and every bit of money raised will be donated to the
Alliance for Lupus Research
. If you have a minute, please head on over to
my donation page
and share a dollar... or ten.
Oh! Last thing! If you have Lupus, know someone who does, or have been affected by Lupus in any way, please check out (and share your story with me via) the
Purple Spotlight
! I shed the 'spotlight' on Lupus warriors to raise awareness. I'd love to share your story next!
Again, thanks so much Raewyn for letting me share my little testimony! So happy to have met you all over cyberspace! Come visit my blog, I'm dying to get to know you even more!
With Love, M&W.
FACEBOOK | TWITTER | PINTEREST | GOOGLE+ | INSTAGRAM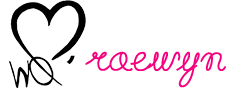 Check out one of our featured Warrior Queens: