This blog post is part of the Fight Like a Girl Blog Hop! Please find the rest of the blogs here.
As many of you know, my mom was diagnosed with
Stage II Breast Cancer this past summer
. Once she was diagnosed, she quickly began going through all of the procedures - surgery and then chemo. This next week marks her halfway point!!
My warrior queen momma rockin her head scarf! Can't you just see her beautiful soul radiating from that face? #warriorqueen #mommylove #ilovemymom #breastcancer #cancersucks #fightlikeagirl #fightlikeawarriorqueen #strongwoman
I am so incredibly proud of my momma for her strength through all of this. She has always been such an inspiration for me. I wanted today's post to be about my journey with Breast Cancer, but I feel that it is not my time to share that story. Today, I would like to speak on Breast Cancer and other's journeys. I want to give the spotlight to others to share their experiences and raise awareness.
Most importantly, I want to introduce you to a new non-profit,
Not Just October
, and its founder
Lavar
. I found
Lavar
on
Instagram,
when he liked one of my pictures of my mom. I instantly knew that I wanted to partner with him and help him along his journey! I'll let
Lavar
tell you a little more about
Not Just October.
Could you give us some background information on Not Just October?

- Not Just October was an idea I had in August of 2014, I always had a passion for Breast Cancer Awareness and I felt like it was time to jump into the fight! We will be spreading awareness nationwide though events and merchandise, also we will be attempting to help families financially who run into issues due to Breast Cancer. Our fundraising efforts will also be used to fund research working towards a cure for Breast Cancer.

What motivated you to start the non profit?

- I know that there are already organizations devoted to Breast Cancer, but I feel that my creative outside of the box way of thinking would really benefit the fight.

How long were you active in the breast cancer awareness movement before you began your non profit?

- My mother passed away from Breast Cancer in 2009, I have been doing walks and attending other events ever since.

What are the goals of your non profit?

- My ultimate goal is to have an important role in finding a cure for Breast Cancer. As for my organization my goal is to be a globally known organization which is doing good throughout several communities and spreading awareness all year, Not Just October. I am young and in touch with pop culture so I aim to spread awareness in different demographics then other organizations.

How has breast cancer affected your life?

-I witnessed my Mother fight Breast Cancer and win! After her mastectomy, chemotherapy, and radiation her Cancer went into remission. Unfortunately a year later my mothers Cancer came back more aggressively and ultimately spread to her brain which lead to her passing away. I was not as informed on the disease as I should have been, which has led me to spread awareness and educate people all over the world so that people don't have to go through what I went through.

What inspired your ideas for the chance bands?

- When a person passes away, they are mourned by friends and family for a short amount of time and unfortunately the memories sometimes fade away, my bands give us the opportunity to remember the strength of the person who battled Cancer and spread it across the world. Survivors and family members of women who passed away donate fabric which we sew to the band and Mail around the world. Their strength lives on! Each band comes with a small card that has some facts about the person who's fabric was donated. I am very excited about these bands!
Speaking of these bands, we are giving away one of these bands to raise awareness and help
Not Just October
grow their social media presence! Bonus - the winner will receive a $50 gift card to Target and a $10 gift card to Starbucks! Enter below, and feel free to link up your Breast Cancer Awareness posts during the rest of the month! Winner will be picked on November 1st!
a Rafflecopter giveaway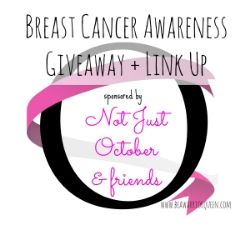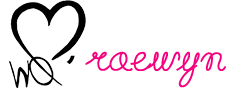 Check out one of our featured Warrior Queens: