Hmm, for some reason this week is heavy on the motherhood posts .I'm okay with that, and I hope that you guys are, too. For me, as a warrior queen, the way we raise our daughters and sons are very important to me. I also believe the way we interact with children that are not our own is important. I've been noticing it a lot lately. I try my hardest to tell girls and boys to break gender stereotypes, yet when I explain the wiki sticks we have for our kid menus, I almost always tell the little girls they can make a butterfly or bracelet, rather than saying something more gender neutral.
Do you catch yourself doing things like that?
Also, many people have been sporting the WQ wristbands recently. I'm going to start sharing them on
@beawarriorqueen
on Instagram. Are you following? AND DO YOU WANT A WRISTBAND?
Dale Partridge is so inspiring. This article about
things mothers should never say to their daughters
is something I must always remember!
It's not uncommon to be unhappy with our bodies - these
reasons on why to ditch the scale
are so important to acknowledge.
I've shared the What's Underneath project by
Style Like U
before, but
this video
is too powerful to not share.
Nina reminds us the
best (simple) ways to be happier
.
I love what Samantha at
Moving Peaces
is doing with the month of October! She's doing
31 Days of Finding Self.
Yvonne tackled a tough topic on her blog that might slip your mind when you find out you're pregnant -
telling your friends and family who are unable to have kids
.
I love
these lessons
that Alissa has learned in her 22 years. p.s. Happy Birthday, Alissa!
This satirical video called
Rape: It's Your Fault
in this Miss Information article is awesome.
Raising
kind daughters
starts at home.
Huffington Post was on it this week, and published this
open letter to Target
that all moms have been thinking about.
Who did you get
dressed for this morning?
I'm willing to bet it most likely wasn't to turn on the people around you.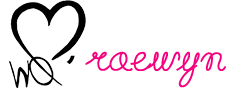 Check out one of our featured Warrior Queens: