A few weeks ago, I mentioned my
budget woes
. On the bright side - I've got that handled! I finally made a sort of budget and started working through everything. On the downside - it is ridiculously expensive and I'm not sure where the money will come from. I know that I have a lot of people who love and support us and will do anything for us. I'm not worried, but I am. lol.
Today I decided to do a To Do Checklist :) Let me know if you think I forgot anything - I took this off of the
Real Simple
website. As always, linking up at
Chits and Giggles
!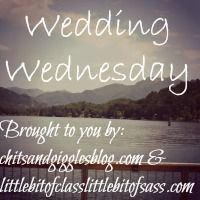 Start a wedding folder or binder.
Work out your budget.
Pick your wedding party.
Start the guest list.
Hire a planner, if desired.
Reserve your date and venues.
Book your officiant. (sort of / kind of. I know who we want...and are hoping to ask her in the next week or so)
Research photographers, bands, florists, and caterers.
Throw an engagement party
Hire the photographer and the videographer.
Book the entertainment.(Need to touch base with my uncle on this)
Meet caterers.
Purchase a dress. (Mom's working on this!)
Reserve a block of hotel rooms for out-of-town guests.(I've been researching!)
Register.
Launch a wedding website.
Seven to Six Months Before
Select and purchase invitations.
Start planning a honeymoon.
Make sure that your passports are up-to-date, and schedule doctors' appointments for any shots you may need.
Shop for bridesmaids' dresses.
Meet with the officiant.
Map out the ceremony and confirm that you have all the official documents for the wedding (these vary by county and religion).
Send save-the-date cards.
Reserve structural and electrical necessities.
Book a florist.
Arrange transportation.
Start composing a day-of timeline.
Five to Four Months Before
Draw up a schedule of the event and slot in each component (the cake-cutting, the first dance).
Book the rehearsal and rehearsal-dinner venues.
Check on the wedding invitations.
Select and order the cake.
Send your guest list to the host of your shower.
Purchase wedding shoes and start dress fittings.
Schedule hair and makeup artists.
Choose your music.
Make decorations.
Three Months Before
Finalize the menu and flowers.
Order favors, if desired.
Make a list of the people giving toasts.
Finalize the readings.
Purchase your undergarments.
Finalize the order of the ceremony and the reception.
Print menu cards, if you like, as well as programs.
Purchase the rings.
Send your event schedule to the vendors.
Two Months Before
Meet with the photographer.
Review the playlist with the band or deejay.
Send out the invitations.
Enjoy a bachelorette party
One Month Before
Enter RSVPs into your guest-list database.
Get your marriage license.
Mail the rehearsal-dinner invitations.
Stock the bar.
Send out as many final payments as you can.
Confirm times for hair and makeup and all vendors.
E-mail and print directions for drivers of transport vehicles.
Assign seating.
Purchase bridesmaids' gifts.
Write vows, if necessary.
Get your hair cut and colored, if desired.
Week of the Wedding
Reconfirm arrival times with vendors.
Delegate small wedding-day tasks.
Send a timeline to the bridal party.
Check in one last time with the photographer.
Set aside checks for the vendors.
And put tips in envelopes to be handed out at the event.
Book a spa treatment.
Send the final guest list to the caterer and all venues hosting your wedding-related events.
Break in your shoes.
Pack for your honeymoon.
What stage are you at on wedding planning?

Check out one of our featured Warrior Queens: